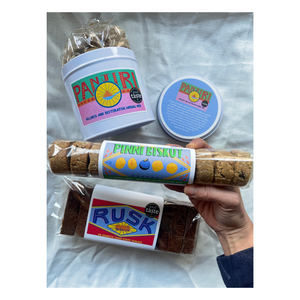 ayurvedic wellness trio
Sale price Price $76.00 Regular price Unit price / per
Tax included.
Shipping
calculated at checkout.
do you want to know what a breakfast of champions is in a typical punjabi household?
enter: homemade organic ghee, bountiful organic nuts, a curated mix of organic herbal seeds and makhane, fox nuts also know as lotus seeds. oh, what do you know? here, we have all of that baked and laboured over the perfect trio to kick off yours and your family's morning routine.
two options: self-care and family affair
option 1: self-care
- panjiri | ayurvedic restorative and wellness herbal mix, 350g (gf)
- white tin 
- pinni | energy biskut with fox nuts and melon seeds, 10 biskuts
- rusk | twice baked fennel cake, 10 rusks
 option 2: family affair
- panjiri | ayurvedic restorative and wellness herbal mix, 500g (gf)
- yellow tin | specialty biskut bar bespoke tin made exclusively by tiipoi
- pinni | energy biskut with fox nuts and melon seeds, 10 biskuts
- rusk | twice baked fennel cake, 20 rusks
- tea towel | bespoke gulab jamun printed organic tea towel
- assam tea + cardamom masala chai kit by amala chai, 15 cups worth